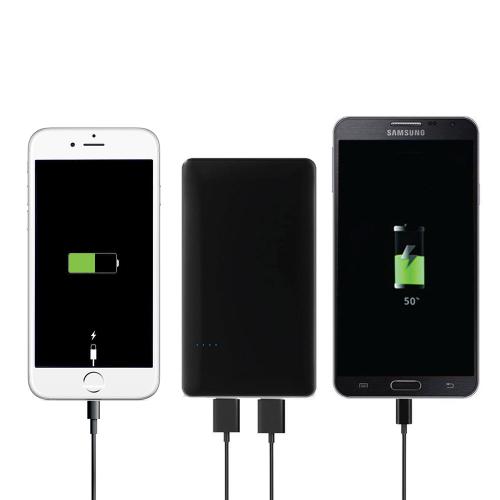 Power banks are becoming a highly popular device in the smartphone accessory market . Also known as external and portable batteries, power banks are especially popular with the tech-savvy younger generation but as smart phones are becoming more universally used, the older generation working class are starting to also get their hands on one of these high-tech, convenient devices. From an article published by ABC News, a study finds that, on average, a person will check their phone 150 times a day. Checking your mobile phone that many times daily, whether it's for emails, messages, or calls, will surely drain the battery life of your mobile device. Extensive cell phone users like myself will have about 1/3 of my phone's battery life by mid-day. This is where a power bank comes in handy. They are fast charging and can charge multiple devices such as small cameras, Mp3 players, and some tablets while still maintaining enough energy to charge your device a second or third time, depending on the power bank's capacity. Size wise, they are typically small and can be stored in pockets, bags, and purses to be used wherever you are.
Before you purchase your new power bank, there are a few things you should keep in mind:
Capacity
The capacity of a power bank is very important when choosing the right power bank to charge a device. If your tablet's battery capacity is more than a power bank's, it is probably not a good idea to purchase that power bank. Not only will it not fully charge the tablet device, it will not be powerful enough to accomplish a speedy charge and too weak to utilize its full capacity. If the smart phone you are trying to charge has a battery capacity of 2000 mAh, it is best to purchase a power bank of around 3000 mAh battery capacity or 5000 mAh if you would like to get at least two full charges.
USB Charging
Some power banks have an integrated charging cable. So if you are on-the-go, the only items you will have to bring with you to charge your phone is a power bank with an integrated charging cable. This feature is quite convenient , although it may cost you a bit extra for the added feature. On the other hand, most power banks do not have this feature. You will need to bring with you the power bank and a USB-to-phone charging cable to charge your cell phone.
Quality
As a result of power banks becoming popular among all cell phone users, there has been a lot of fraudulent power banks out in the market. In some cases, there are power banks that are said to have a high battery capacity but cannot fully charge a device with a substantially lower capacity than the power bank. When dissembling it, the power bank will contain a battery that's very light with no writing indication of its capacity or, in an extreme case, filled with sand and a small rechargeable battery attached, as seen below.
I hope this guide will help you on your next power bank purchase. If there are questions or comments, feel free to comment below. And don't forget, YOU got it from a GEEK!
For more info on power banks, check out our Power Banks page on AccessoryGeeks.com!